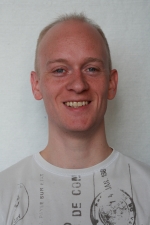 Born May 1977, live in Charlottenlund, Denmark.
In 2006 I completed my M.sc. in software engineering from the danish technical university. My main focus and masters thesis was about computer graphics and physically based simulation.
I generally like to think I'm in pretty good shape mostly due to the fact that I bicycle almost everywhere.
I'm have been training aikido in nørrebro aikido dojo and reached 4th kyu.
I am a co-founder of Big Bite Games making a free to play soccer game on facebook called Soccorama.